Cross-posted from BlogHer, where comments are open on this post ~ LS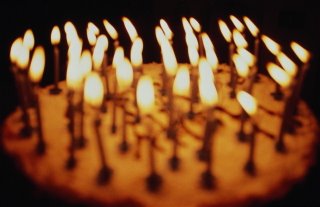 Congratulations everyone! One year ago today the BlogHer Network was born. On Jan. 30, 2006, we launched this community hub at http://blogher.org, a huge step from the little three-woman blog we used to kick-off the first BlogHer Conference '05.
As I describe below, 2007 is going to bring more change...but first let's look at what we accomplished together in 2006.
In the past year, this community expanded steadily to become the premiere Web guide to women bloggers, a 24/7 embodiment of our mission: "To create opportunities for women bloggers to seek exposure, education and community."
Today BlogHer.org includes:
8,163 registered members (Not a member? Join here)
7,189 blogs in our blog directory, sorted A-Z or by 20+ topics. (List yours)
12,066 posts about what women are saying online, written by these amazing 60+ editors who blog expertly in two dozen hot topics that deliver breadth and depth on how women are using social media.
Our reporting about the community has made news of its own -- via the many sites and news outlets that have linked to BlogHer.org, and reported on and lauded conversations led by women in this community.
We have a global reach: In the past year, BlogHer's announcements and some of our thousands of RSS feeds recommending blogs by women have been picked up from The Times of India to The Guardian and Channel 4 in the United Kingdom.
The temptation is strong to link my favorites from the past year's coverage, but I wouldn't do all the writing and exceptional conversations justice. You'll have to read them for yourselves: Art & Design, BlogHer Conferences, Business, Career & Personal Finance, Entertainment & Books, Fashion & Shopping, Feminism & Gender, Food & Drink, Health & Wellness.Hobbies, Crafts & DIY, Law, Life, Media & Journalism, Mommy & Family, Politics & News, Race, Ethnicity & Culture, Religion & Spirituality, Research, Academia & Education, Sex & Relationships, Social Change, Non-Profits & NGOs, Sports & Fitness, Technology & Web, Travel and World.
What's next (hint: don't get comfy)
In 2006, we achieved much of our goal -- to do away with the question, "Where are the women bloggers?" by delivering a daily drumbeat about women who blog and use social media. We will continue this goal into the coming year; On BlogHer.org, anyone who writes and reads blogs can and should list blog(s)by women, and find others, learn what's hot in the blogosphere from BlogHer's incredible contributing editors, and report news of our own, professional and personal.
In 2007, our quest is to continue to develop services that support the power, authority and creativity of the women in this community. To that end, our first major project will be redesigning this Web site. In the redesign of http://blogher.org, we are excited to deliver a number of innovations that many of you have recommended.
Our primary quest is to make BlogHer.org easier to use -- for you to find blogs by topic, find bloggers themselves, and, if you're a blogger, TO BE FOUND. We also are working on a new way to help you easily track comments by the community, to help you recommend your own blog headlines on the site, as well as to open the site to more community blog participation.
To help us in this effort -- and to turn up the volume on our design a little too -- we've invited Emily Chang and Max Kiesler of Ideacodes to help. But we can only be successful if you help us too. Please stay tuned -- we're planning to bring the draft redesign to you in February for your feedback. When you see it, we'll want to know what you love, what you hate -- the works; we want to hear it.
So congratulations again, birthday grrls. Our goal is to relaunch in March. Consider this post a raincheck -- you just have to wait a few months for your present.
Best,
Lisa
Lisa Stone is BlogHer Co-Founder. Her personal blog is Surfette.
Photo credit: BlogHer Contributing Editor Susan Mernit, who also had a birthday this month.